Cooking your way out of the doldrums
Recipes that comfort and soothe
The Oxford Dictionary defines 'doldrums' as "a state or period of inactivity, stagnation, or depression." And I've struggling to get out of it lately. Maybe it's the more noticeable change in the seasons: days getting darker and the encroaching of winter and more Covid cases.
Maybe it's being cooped up in a tiny apartment. Maybe it's my frustration with trying to break into the food media industry, and the lack of control I feel with every freelance pitch I submit—there it goes, into the void. Some things are just uncontrollable, like the dumplings you'll find in the recipe below: they slip right off your spoon.
Cooking can feel inconsequential during the doldrums. But even when the idea of setting out the cutting board and tying on my apron feels like a chore, once the rhythm of chopping ingredients and mixing magic begins, a small light glows in the soul.
Corny, yes. But it's true. Sometimes you need a distraction, something that requires your complete attention and focus and takes your mind off of the raincloud following you around. It doesn't even have to be cooking. Maybe it's a sport or writing or even just reading a good book. Maybe it's calling a friend or going for a walk or running errands.
For me, it's cutting vegetables, mixing stews, rinsing rice, going to the grocery store. Here are some recipes to try when you're feeling down. They're delicious, cozy and might light a small glow in your soul, too.
WHAT I'M EATING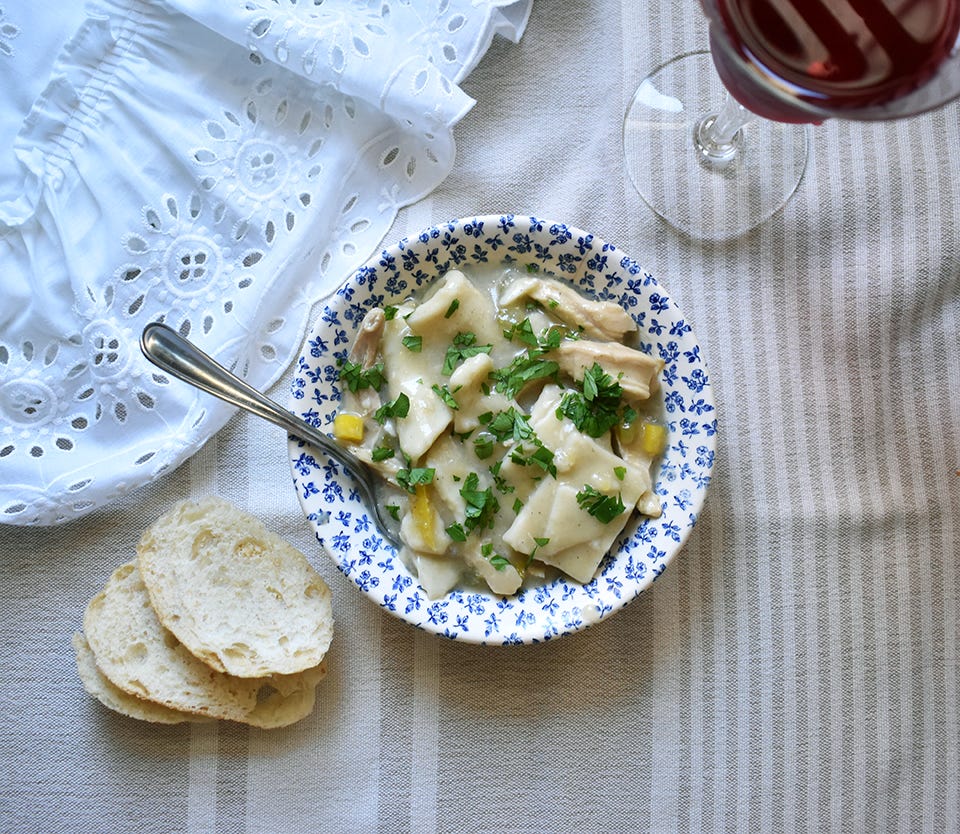 CHICKEN AND DUMPLING SOUP (FOR THE SOUL)
Chicken and dumpling soup has always been special to me. It's a bowlful of love and care, and I have fond memories of my siblings and I tugging on my mom's shirt demanding she double up on the dumps. This soup is really a sum of its parts, so make sure you use good chicken stock (homemade is best, but like Ina says, good store-bought stock will do in a pinch) and don't cook the dumplings too long or they'll disintegrate. That said, it's also super easy and comes together quickly.
INGREDIENTS
For the dumplings:
2 cups all-purpose flour

1/2 teaspoon Kosher salt

10 Tbsp cold unsalted butter, cut into 1/2 inch chunks

1/3 cup ice water (you might not use all of it)
For the soup:
2 carrots, peeled and diced

1 onion, diced

1 stalk celery, diced

1 Tbsp olive oil

1/2 tsp black pepper

1 tsp salt, more to taste

4 cups good chicken stock, preferably homemade

2 cups water

1 roast chicken, meat picked off and shredded (I used about half the meat for this and saved half for another dish)
To serve:
Chopped parsley

A few dashes of Tabasco
INSTRUCTIONS
To make the dumplings, combine flour and salt in a food processor. Pulse a few times to combine. 

Add the butter and pulse until the mixture looks like breadcrumbs. 

As you pulse, slowly pour in the ice water until a rough dough forms. It should bunch up forming a rough ball. Moderation is key here, as too much water will make the dough too sticky. If this happens, add a little more flour and mix. 

Remove from food processor, pat into a square and wrap in plastic wrap. Refrigerate until ready to roll (literally!). 

To make the soup, heat olive oil over medium heat in a Dutch oven or other sturdy bottom pot. Add the diced carrot, onion, celery, salt and pepper and stir. Cook for about 5 minutes, stirring occasionally until vegetables are soft. 

Add the chicken stock and water and bring to a boil. 

Add the shredded chicken and reduce to a low simmer. 

Remove your dumpling dough and cut into two pieces. Flour a work surface liberally and roll out one piece to be about 1/8 inch thick. Using a pizza cutter, cut into ~2×2 inch squares. Repeat with remaining dough. 

Carefully add dough squares a few at a time to soup, and let simmer for 3-4 minutes. 

Season with salt to taste, and serve with chopped parsley and a dash or two of Tabasco. 
POTATO AND CHEESE PIEROGI
Pierogi are plump Eastern European dumplings stuffed with joy. Seriously, put a plate of pierogi in front of a sad person and their tears of sorrow will transform into tears of joy. I know mine do. These pierogi are the result of dozens of tests and a desire to recreate the potato and cheese dumplings my great-grandmother used to bring to family dinners. I serve them with the requisite caramelized onions and sour cream, plus the unusual addition of homemade cranberry sauce. It adds a delicious sweet tang that cuts through the richness of the potato-cheese mixture. During Thanksgiving, I make the same pierogi and add a scoop of boxed stuffing to the filling, and serve them with the cranberry sauce. They are so, so good.
INGREDIENTS
For the dough (based on the America's Test Kitchen recipe)
2 1/2 cups bread flour 

 1 egg plus 1 egg yolk 

 1 tsp baking powder

1/2 tsp Kosher salt 

 1 cup sour cream
For the filling
1 pound russet potatoes, scrubbed, peeled, and cut into 1/2 inch rounds

4 Tbsp unsalted butter

1 cup shredded sharp cheddar cheese

1/2 cup sauerkraut, drained and chopped

1 tsp Kosher salt

1 tsp pepper

1/2 Tbsp Dijon mustard
For serving:
2 onions, cut in half and thinly sliced

3 tablespoons of butter

pinch of salt and pepper

sour cream
INSTRUCTIONS
To make the dough
Whisk the flour, baking powder and salt in the bowl of a stand-mixer. Add the egg and egg yolk and sour cream and mix on medium-high using a dough hook for about 8 minutes, until dough is smooth and stretchy. Transfer dough to bowl sprayed with pam, cover with plastic wrap and let rest for 30 minutes.
To make the filling
Boil the potato rounds until very soft (they are ready when you can stick a fork into them easily). Drain and place in the bowl of a stand mixer fitted with a paddle attachment. Add the butter, cheddar, saurkraut, salt, pepper and Dijon. Mix on medium speed until well combined, about 2 minutes. Let chill for 30 minutes.
To assemble
When ready to assemble, lightly flour a clean work surface and rolling pin. Cut dough in quarters, wrapping three pieces in plastic wrap for later. Roll dough to around 1/4 inch thick. Use a 3-inch wide circle cookie cutter to cut rounds. Roll each round to make it slightly oblong, then place ~3 Tbsp of filling in the center. Pull one edge up and over the fillings, then press into the other side. Pinch together. Place completed pierogi on a sheet tray lined with parchment paper and freeze if not using immediately. If serving immediately, bring a pot of salted water to a boil and add pierogi. Cook for 3-4 minutes, or until pierogi are floating. Drain and put in serving platter.
To serve
Heat butter in a skillet over medium heat. Add onion, salt and pepper, and cook over medium-low heat for 10-15 minutes, stirring occasionally, until onions are golden and sweet. Pour over cooked pierogi and gently toss to coat. Serve with Bon Appetit's cranberry sauce and sour cream.
WHAT I'M DRINKING
John and I have been binging Avatar on Netflix (these are words that I never thought I would type) and one of our favorite characters is Iroh, the old fire general. Iroh drinks lots of tea—one of his favorites is jasmine—and his habit has had me reaching for the kettle. Jasmine green tea has been my latest go-to, but I also love a cup of white tea in the evening, or a cuppa Prince of Wales with milk and sugar after breakfast.
On the adult beverage front, I'm leaning hard into the fall-inspired libations; add a cinnamon stick to anything, and I'm one happy gal. My latest creation is a cider sangria made with red wine, calvados (or a cheaper apply brandy, no judgment), and applejack for extra appley-ness.
CIDER SANGRIA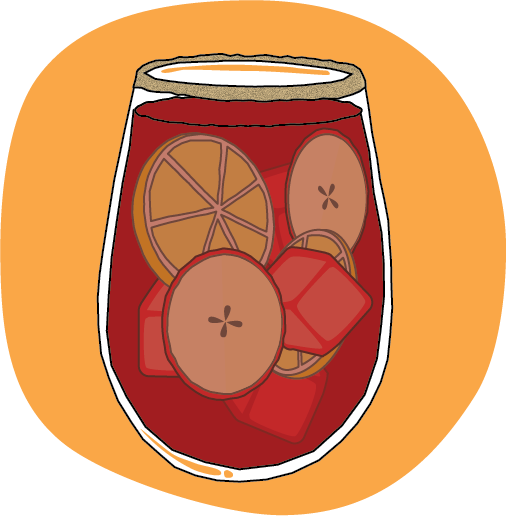 Makes 2 generous servings
INGREDIENTS
1 1/2 cups red wine
2 ounces apple brandy, like Calvados
2 ounces applejack
1 ounce lemon juice, plus 1 lemon sliced into thin rounds— reserve 1 slice
3 cups apple cider
4 dashes bitters
1 apple, sliced into thin rounds
ice to serve
2 tsp cinnamon
3 Tbsp sugar
INSTRUCTIONS
Measure all ingredients except one slice of lemon, ice, cinnamon and sugar into a pitcher. Stir well and set aside. Mix together cinnamon and sugar in a shallow bowl and use the reserved lemon slice to moisten the rim of your serving cups. Roll the edge in the cinnamon-sugar mixture, then fill the cup with ice. Ladle sangria into cups with pieces of apple and lemon, and voila, your fruity fall beverage is served.
WHAT IS APPLEJACK?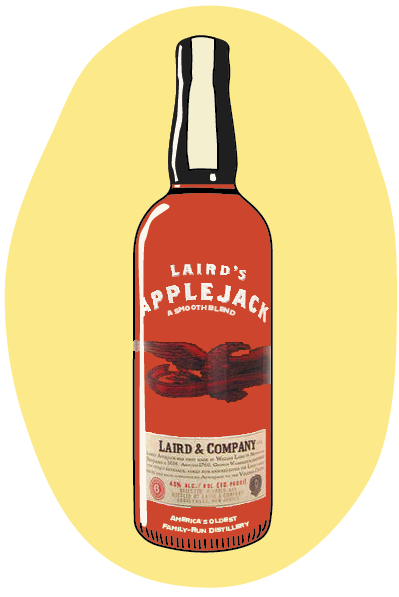 Applejack is as American a libation as whiskey, but it's languished in relative obscurity. Quite the downfall for a spirit that was created in 1698 and that uses a quintessential American fruit as its main ingredient! Applejack was traditionally made by freezing fermented cider, then removing the ice to create a delicious (but admittedly, rough) spirit. While today's iterations no longer use the freezing method (it could result in some nasty alcohol biproducts), they still produce a delicious, whiskey-like spirit with a hint of apple sweetness. Laird's is the brand I used in my cider sangria, and is the oldest licensed applejack in the U.S., dating back to 1780.
Other ways to use it: Applejack sour, Applejack Old-Fashioned, Applejack daquiri, Applejack mulled wine (basically a hot version of the above drink + more aromatics, like ginger and cinnamon)
WHAT I'M READING
An array of Eastern European cookbooks. Recently, I've been researching certain aspects of my heritage, particularly my roots in the Baltic nation of of Lithuania. It's a fascinating country, once home to one of the most progressive and successful empires in the world —the Grand Duchy of Lithuania—and to a language that has roots to Proto Indo-European with similarities to Sanskrit. And the food is no less interesting. Sour cream (and dairy in general) abounds, as do dishes that blend sour and savory, rustic and regal. There's the coulibiac, a fancy fish pie of Russian origin with cues from French cooking, and on the opposite side of the spectrum, baked cultured milk, a simple dessert of slow-cooked milk with a dollop of sour cream for tang.
Here are some great books for anyone curious about Eastern European cuisine:
Simon Bajada's "Baltic" chronicles the dishes that define Estonia, Latvia, and Lithuania, three countries that border the Baltic sea. It's a close look at a region that has been long ignored. I'm hoping to attempt my own winter version of Lithuanian borscht, Šaltibarščiai, which is normally a chilled summer soup made with kefir, beets, and cucumbers.
I'm also loving "Kachka" by Bonnie Frumkin Morales, chef at the groundbreaking Russian restaurant of the same name in Portland, Oregon. If you think Eastern European food is just beets and potatoes, think again. Frumkin traces the roots of various iconic dishes and doesn't shy away from some of Russia's more colorful fare. Why not try your hand at making the resplendent Herring Under a Fur Coat (a name that's as Russian as it gets) or the plump pelmeniki a.k.a Russian pierogi? Plus, she provides babushka remedies for all that ails you, and during the doldrums, maybe old babushka is right about that medicinal shot of vodka!
"Beyond the North Wind" by Darra Goldstein is a beautiful book that dives into the simple things that could make Russian food just as trendy as any dish from Noma: Fermented oatmeal, sweet-tart raspberry kvass, lacy blinis with fresh cultured butter. She also traces the history of Russian cuisine, from the extravagant meals of Peter the Great to the Tartar and Turkish influence with its khachapuri and ground lamb dumplings.
BONUS HALLOWEEN RECIPE!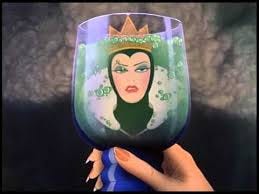 On impulse, I bought a bottle of Midori. This 80s darling is neon green, saccharine, and supposedly tastes like melon. While it was eventually deemed too tacky amongst the elite bartender crowd, it's making a quiet comeback.
I got it because it's fluorescent color makes for a great Halloween cocktail.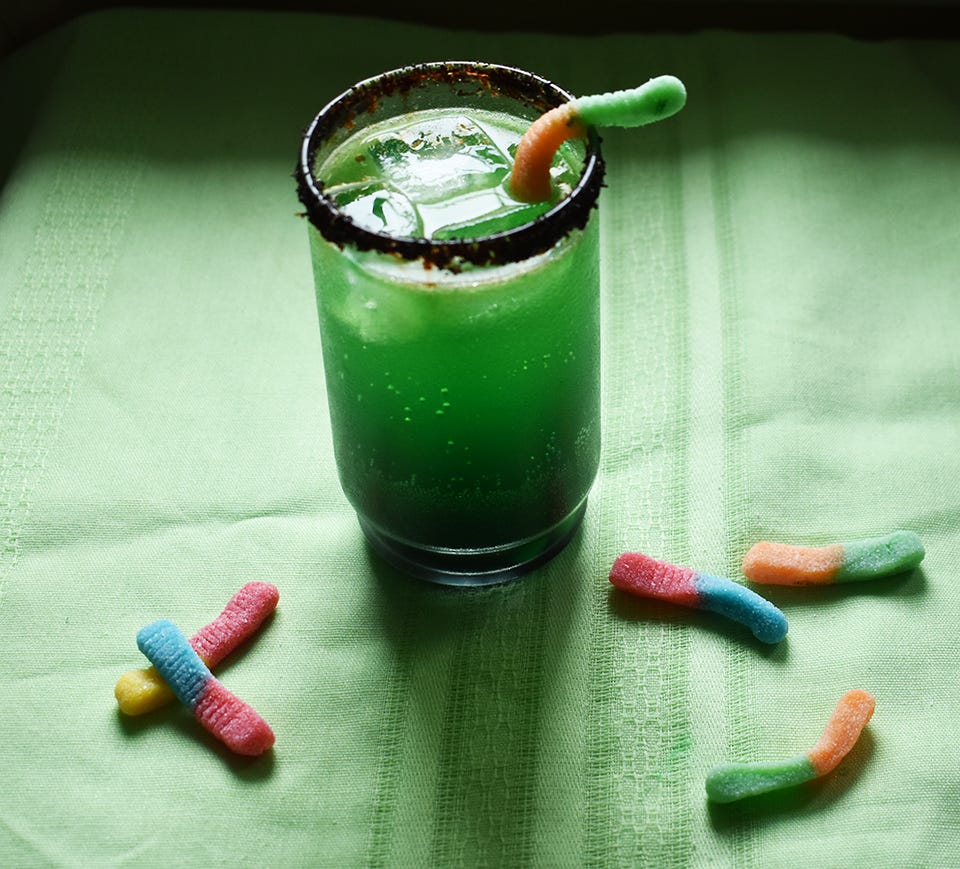 WITCHES BREW
Inspired by the evil queen's potion in Snow White, this midori-based cocktail gets brightness from lime juice, a little fizzy lift from club soda, and a nod to the witch's poison apple with a splash of apple brandy (or applejack for subtler flavor). If you have a cool glass like the one she uses in the movie, props to you. Meanwhile, I'm garnishing mine with some candied gummy worms and a lime zest black sugar rim for a different spooky affect.
INGREDIENTS
2 oz. Midori
1 oz. apple brandy or applejack
3/4 oz. lime juice (zest the lime before using; we'll use the zest for the rim)
1/2 ounce simple syrup or Cointreau
Club soda
For garnish:
Wedge of lime
Green or black sugar
lime zest
Gummy worms
INSTRUCTIONS
First, make your sugar rim. Mix the black or green sugar with lime zest in a shallow bowl. Use a wedge of lime to moisten the rim of a highball glass, then roll the edge in the sugar lime zest mixture. Fill with ice, then set aside.
Fill a shaker bottom with ice and add Midori, apple brandy, lime juice and simple syrup or Cointreau. Shake for 10 seconds, then strain into a highball glass. Top with club soda and garnish with a gummy worm.
🎃 Happy Halloween! 🎃